Searching for Kitchen Fitters Essex? Then you have found the right place, here at TLC Building Services.
Are you looking to have a kitchen upgrade? Then have a new kitchen fitted! We are able to help you with this, just contact our team with an enquiry!
Why Choose Us?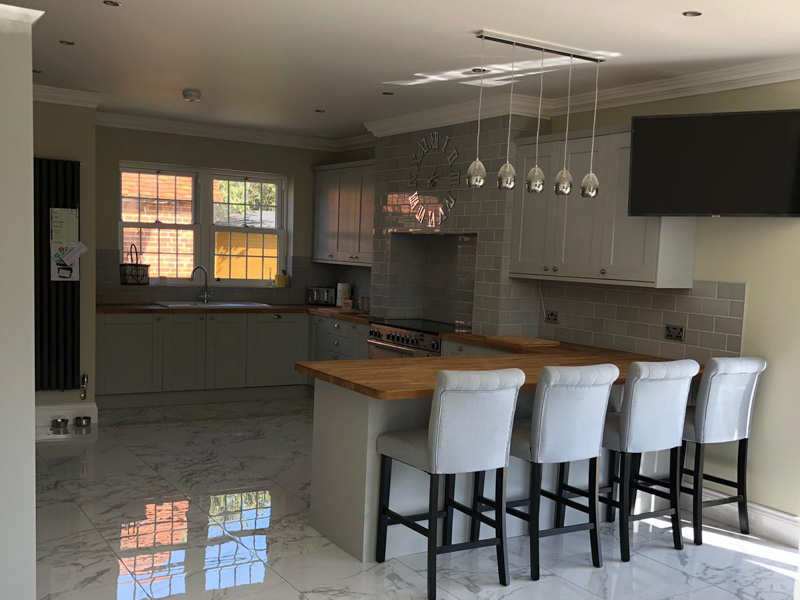 TLC Building Services has been established since 2008, since then we have completed many projects involving improving a household. We have converted garages to give extra space in a house, we can build extensions to further increase space and improve home life.
Our team makes sure to listen carefully to all of our customers' requirements, to ensure they receive the household upgrade they have always wanted.
Our specialist in-house tradesmen can come up with creative solutions when fitting your kitchen, to make sure you get the look you want whilst still being practicable to fit in properly with your household. Because of this all of the kitchens we have fitted have lasted for a very long time, making our customers very happy with our work.
We are very proud to receive hundreds of direct reviews from our customers on review websites. On Checkatrade we received nearly 100 reviews, with a 9.7/10 star rating. Furthermore, on Yell we have received over 50 reviews, with a 4.9/5 star rating!
To get a wonderful new modern kitchen, or another design of your choice our team is here to realise your wants and deliver you a kitchen that will last!
Contact Us – The Best Kitchen Fitters In Essex:
Interested in Kitchen Fitters Essex? Then make sure to get in contact with us today! You can fill in an enquiry form on our contact page. Or if you would prefer, you can contact our team directly through email at: info@tlchomegroup.co.uk, or call us on: 01206 971858. We look forward to hearing from you!